Offers section¶
Tip
Actually, you don't need to connect the offer, if your account status allows working with the offer.
All advertisement offers are gathered in the Offers. section. This is a section with the list of offers that are present in our affiliate network. You can search for them, take affiliate links, into work, see information about the conditions.
The panel on the left lets you choose between web and mobile offers.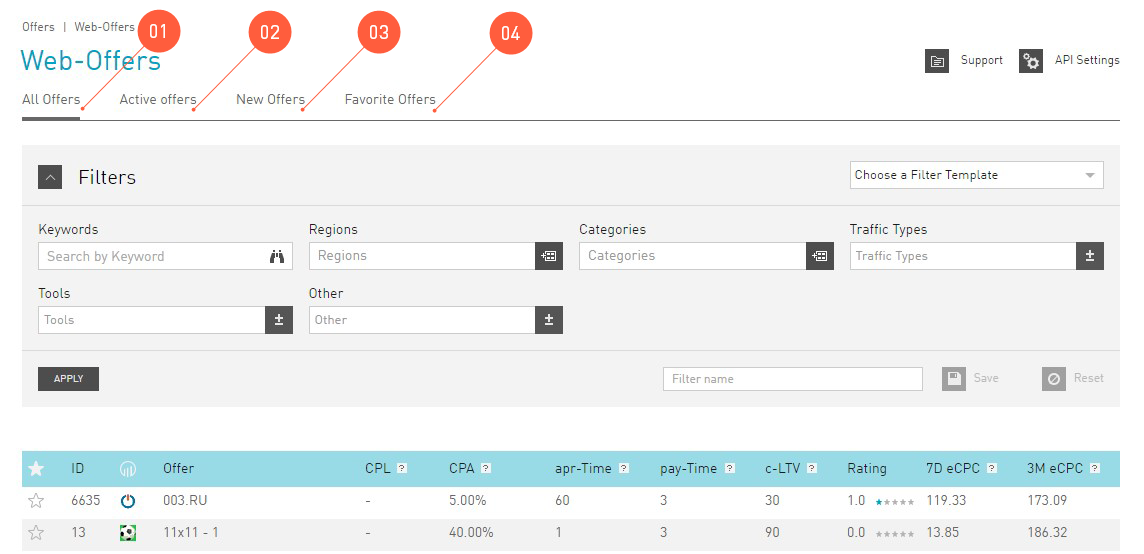 In each category, all offers are divided into groups:
All Offers. The table displays all offers without any sorting.
Active Offers are offers that are active for you at the moment. This means the system sees that they have had traffic in the last 30 days.
New Offers are offers that have recently appeared in the system. Specifically, all offers that have come out in the last 20 days, the freshest ones!
Favorite Offers are offers that you choose yourself by clicking on the star of the offer you like.
Use the filters panel to find a relevant offer and then choose the offer in the table. When you click on its name you see the Offer Card, which displays all the details about the advertising campaign and the conditions of working with the offer chosen.
Offer Card¶
After clicking on any offer you get to the Offer Card, which is filled with details. The card contains all the info about the offer from the advertiser. The card has tabs with useful information.