Lost Orders¶
The "Lost Orders" tool allows you to submit a request for consideration of a lead that is not displayed in the system or has a controversial status.
You can leave a request by going to the "Tools – Lost Orders" section. After clicking on the "ADD APPLICATION +" button, a window will appear with fields to complete: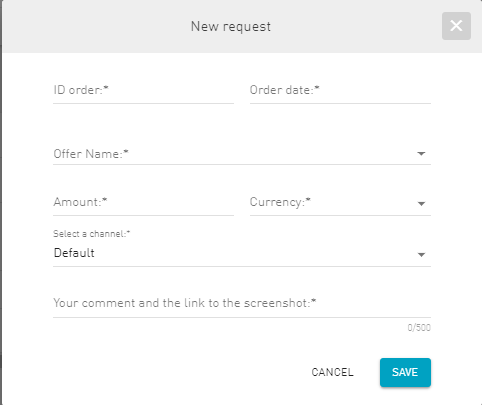 The application must specify the Order number; Order date; Offer name; Order amount; Order currency; in the comments, send a screenshot confirming order payment or action taken, and information on the lead. For example: "Order was not displayed in the system." Please note that all fields are required.
Then, the application is assigned a submission date and additional fields.

As soon as the application is reviewed, the "Status" and "Manager comments" will change.
"New" status – the application has not yet been processed; "Processing" status – information has been sent to the advertiser and is being reviewed; "Approved" status – the lead is in the system with correct data; "Rejected" status – lead rejected by the advertiser possibly belongs to another publisher, or another paid channel.
Deleting or editing data in the application is only possible when the status is "New".